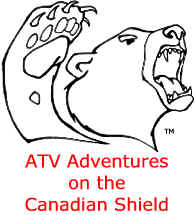 - Andrew Ryeland
AUTUMN ANYONE?
In less than a month we will be drinking in the cool crisp days of Fall. Autumn is that glorious time of the year when the fully-fledged forests of the north dress up and party! ATVers get invited to all the best shindigs only found deep in the backcountry. If you'd like to come to one of those celebrations see our FALL COLOUR RIDE event below.
This past summer has seen a giant increase in the interest of All Terrain Vehicle use in Ontario and the Parry Sound area specifically. ATV sales in Ontario outnumber snowmobile sales by a substantial factor. We all know how snowmobiling has benefited our region so what can we expect to see here?
WORLD-CLASS ATV TRAILS & DESTINATIONS
Communities all across Northern Ontario are preparing world-class ATV destinations in anticipation of multi-million dollar returns from the tourism sector of our economy. A concept called ATVOntario is being developed that will see joint ventures advanced with communities and the Ontario Tourism Marketing Partnership (OTMP). This is a major initiative that includes 'branding' the ATV experience, addressing issues of liability, risk management and safety, product development, supplier development and community welcome and marketing strategies, measurement, sustainability and the development of a best practice manual.

The community of Elliot Lake is the initial signature site for the ATVOntario pilot project due to their extensive ATV tourism product development experience. In Parry Sound we will benefit from the professional attention given to the initiative by receiving the output of the studies.

The Parry Sound ATV District Club hopes to contribute to the conceptualization process of ATV tourism from a different perspective. Our agreement last June with the Parry Sound Snowmobile District and the full blessings of our parent organizations, to pilot the use of shared trails in our region should yield a template for co-operation throughout the province. Locally, we are also active in the Park to Park Trail organization www.parktoparktrail.com that is proceeding with plans to develop multi-use trails connecting Algonquin Provincial Park to Killbear. Overtures from other trail organizations seeking connections, destinations and co-operation promise a bright future for an Ontario network of trails.