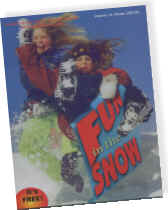 FUN in the Snow - Volume 12, Winter 2001/02 pg 23-24
---
All Season ATVing catching on among outdoor enthusiasts
---
The ALL TERRAIN VEHICLE or ATV or Quad is truly meant for the rigours of our Canadian climate. If you thought that only meant fair weather north of 0 degrees Celsius then you discount the "ALL TERRAIN" imperative.
If you are fortunate enough to live within reach of the great Canadian Shield, the very nucleus of North America, you will know that we are blessed with 4 very distinct seasons. Summer delights are well documented, but what about the other 3?
AUTUMN. WOW! Is there a place on earth that dresses up like Ontario in September and October? Sure a glimpse of a few colours from the highway is breathtaking, but to really jump into fall takes a ride in the forest on an ATV. Riding alongside black lakes and scarlet shores is an adventure that can be found no other way. There is a wonderful aroma that comes from the unsettled leaves on the trail and there are no insects to distract you. The dust of summer is subdued by the rain and frost of fall evenings.
The feeling of squeezing an extra weekend out of the cottage or cheating the calendar adds to the thrill of the ride. Mud splattered boots and pants attest to the explorer's adventure. There are always lazy rest spots to catch the Indian summer warmth before the sun flees south with the ducks. The element of change is never closer than a November afternoon. "Don't those look like snow clouds?."
All too short, the autumn is a much cherished time for those who know how our seasons 'tick'. The ATV has permitted us to take in much more of this precious period .. the fresh air, the smell, the colour, the wildlife and the camaraderie of friends.
WINTER, once the sole domain of the snowmobile, is now sharing her many pleasures with the avid ATVer. Our trails are different, our expectations higher and our appreciation of nature much more dramatic. Most of us have both snowmobiles and ATVs so comparisons are inevitable but not exclusionary. We absorb all the subzero air our tilted Earth can dish out. A frozen waterfall in all her ice-caved majesty is now readily accessible. Crunchy, no squeaky, snow is actually heard as you travel down familiar trails. Deer tracks, Moose brushed conifers and even tiny mouse tracks widen the experience. Wolf howls in frozen air seem very comforting when you are relaxing on top of a high ridge sipping a hot coffee.
The extraordinary carrying capacity of an ATV means that a trailside lunch or access to a camera is just a reach away on the racks in front of you. A slow snake under a winter tunnel of snow-laden boughs brings all kinds of opportunities for mischief. Tailgaters will learn the refreshing meaning of an impromptu snow shower. Those who tarry will wonder how the trail suddenly disappeared.
Whilst the leaves of summer and their splendour in fall, seclude our rides or thrill our sight, the lack thereof, in winter, makes for an amazing series of peripheral encounters. You notice movement in what is normally a dense forest. "Was that once a pioneer trail?" "I never saw that cliff before." Everything is altered, somehow sacred.
The advent of the snowmobile and the evolution of the ATV have given us many creature comforts that allow for a full warm winter experience. Snowmobile clothing coupled with electrically heated handlebars and packsacks stuffed with goodies make ATVing in winter a joy. Comfort is a main factor in determining whether or not to venture into the winter wilderness. So is safety. Most late model ATVs are equipped to provide both, in all seasons. It's always advisable to travel in a group. Know exactly where you are going to travel and carry gear, such as cell phones, tow straps and survival supplies. In addition those at home should have an idea when to expect you back and know which trail system you are following. Night riding highlights the wondrous aspects of the glittering snow, but brings other challenges. Unexpected cold snaps or wind chill may cause a turn around earlier than anticipated. Ice build-up needs to be monitored to ensure that none of the mechanical attributes of your ATV are threatened.
SPRING always surprises! One day it looks like the snow banks will last til July and the next there are trilliums and wild onions sprouting along side the ice. There are different sights that appear along the ATV trails each day. Trickling creeks turn into gushing rivers overnight and the ATV adventure now includes fording streams and avoiding newly formed swamps. The winch becomes as intimate as the throttle and rubber boots replace their oversized, felt lined winter cousins.
Spring is also a time to appreciate the four-wheel drive prowess of your ATV. There is no other vehicle that can step over a fallen tree, plunge through a three foot deep puddle and climb a granite faced hill all within 15 minutes of each other. A favourite stop is a sugar shack boiling down sap and perpetuating another great Canadian tradition … Maple Syrup.
---------- o ----------
The best way to see all that ATVing can offer is to join with others who know where and when to take the right trail. ATVing is one of the fastest growing pastimes in North America and year round use is the main reason. There are more ATV trails opening each year and the sport is benefiting from organizations dedicated to its enjoyment. Seek out an ATV club in your area and join.
There are several ATV touring companies that operate on the Canadian Shield and many of them operate year-round. If you are new to the sport or would like to taste a bit of the 'other seasons' of Ontario, you can affordably sample the experience by hooking up with them.
---------- o ----------
About the author:
Andrew Ryeland is the owner/operator of Bear Claw Tours (www.bearclawtours.com). He has over 30 years experience in snowmobiling in the Parry Sound area and has been operating ATVs and conducting winter experiences for friends and family for over 5 years. He is an active member of the OFATV through the Parry Sound ATV District Club and the OFSC (Ontario Federation of Snowmobile Clubs) through the South Seguin Snowmobile Club.