- Andrew Ryeland
Where Can I Ride?
In Canada last year 94,000 new ATVs were sold, in Ontario alone nearly 22,000 ATVs left the showroom and in Ontario's bordering states another 120,000 freedom machines made their way into the hands of new explorers. We all know the popularity of snowmobiling and how it has expanded our economic outlook in the north so imagine what an ATV based tourism and recreation economy looks like. At nearly 4 times the sales and 4 times the seasonal use the upshot of this phenomenon is poised to deliver 16 times the established value of snowmobiling. This sustenance also boasts a weather resistant factor and shoulder season affinity that will provide a consistent and persistent flow of income to our accommodation, food and tourism service sectors.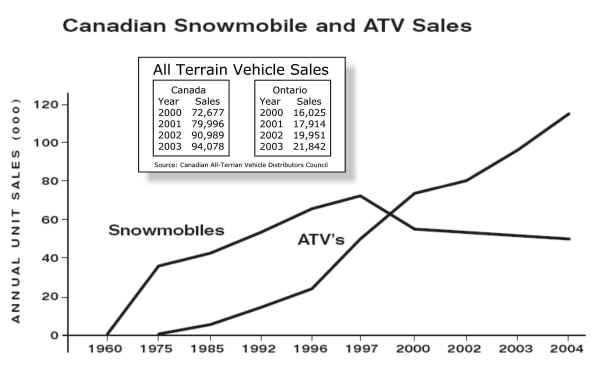 Largest ATV Club In Ontario
All these ATVers need to a place to ride their ATVs. The Parry Sound ATV District Club (PSATV) has grown exponentially in the past few months chiefly in response to avid ATVers eager to find responsible and incredible riding experiences. We are now the largest ATV Club in the Province. Our partnerships with ATVOntario, Park-to-Park Trail Association, local municipalities and the nearly 60 businesses participating in Spring Jam 2004 have given our members real value for their ATV investment. The Parry Sound Region experienced an economic boost in the arm of close to $200,000 from that festival alone.
ATVers are unique in their spending habits and desires. The average ATV trip is about 35 kilometres in length and under 4 hours in duration. ATVers are explorers and enjoy challenges. A twisty, rocky, wet trail with inclines, declines and unanticipated obstacles delight the valiant ATVer. We have seen people derive a whole day of pleasure traversing a mere 10 kilometres. This sport is truly and unfathomably about the journey not the destination. And yet, the average ATV family will not hesitate to seek luxury in a hot tub, spa or a five star restaurant at the end of the day. This ironic juxtaposition of activities associated with the All Terrain Vehicle is spawning hundreds of vacation packages across North America and Ontario is at the forefront of those developments. As the tourism industry in Georgian Bay Country adapts to this brand new market we are seeing private and public riding opportunities develop. Packages are becoming abundant and are heavily promoted (see www.atvontario.com). Locally the PSATV complements the offerings with club rides and events in almost every month of the year (check out www.psatv.ca)
Many scoff at the upstart ATV industry and try to equate it with winter trail riders but it is a much larger and a more diverse pastime than snowmobiling and it is literally driving its own course. New Ontario Ministry of Tourism models that promote this diversity will augment our common enjoyment of the outdoors and ensure we deliver year round satisfaction to our customers and hospitality suppliers whilst keeping our natural environment increasingly accessible and renewable.